Susie Gustafson Real Estate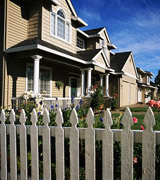 Welcome
Real Estate
Tools & Information
About Us

Susie Gustafson
Susie Gustafson Real Estate, LLC
12 University Ave.
Hamilton, NY 13346
315-824-4663 Office


Article
What is the return on new versus previously owned homes?

Buying into a new-home community may seem riskier than purchasing a house in an established neighborhood, but any increase in home value depends upon the same factors: quality of the neighborhood, growth in the local housing market and the state of the overall economy.
One survey by the National Association of Realtors shows that resale homes do have an edge over new homes. The trade group's figures show the median price of resale homes increased4.3 percent between 1999 and 2000, compared to 2.8 percent for new homes in the same period.

by Blitz Development