Susie Gustafson Real Estate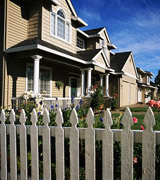 Welcome
Real Estate
Tools & Information
About Us

Susie Gustafson
Susie Gustafson Real Estate, LLC
12 University Ave.
Hamilton, NY 13346
315-824-4663 Office


Article
How do I find a home inspector?

Your realty agent is one source.
But keeping them independent from the agent may be a good idea. Inspectors are listed in the yellow pages. You can ask for referrals from friends. Ask for their credentials, such as contractor's license or engineering certificate. Also, check out their references.

by Blitz Development