Charming Colonial on +/- 28 acres of pretty property!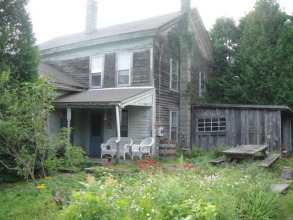 More Photos At:
Listing Number:
908208
MLS Number:
S240486
 
Essentials
Bedrooms:
4
Bathrooms:
1.5
Type:
Single Family Home
SqFt:
2346
Lot Size:
28 acres
Floor(s):
2
Year Built:
1850
Car Spaces:
 
Location
1079 Humphrey Rd.
Hamilton NY 13346
Cross Street(s):
Williams Rd.

 
Financials
Price:
$172,000
Property Taxes:
$1652
Susie Gustafson
Susie Gustafson Real Estate, LLC
12 University Ave.
Hamilton, NY 13346
315-824-4663 Office


Description:
Pretty Southwest views are yours from the front yard of this nice property featuring full bath and bedroom on the first floor, double living room w/woodstove, kitchen opens to dining room. Upstairs features three bedrooms and a 1/2 bath. Garden shed & back porch/patio area. A thoughtfully rural, c.1850 homestead.


Features & Amenities
Hardwood Flooring, Views, Porch, Basement, Refrigerator, Washer/Dryer, Landscaping


Listed By:
Susie Gustafson
Susie Gustafson RE, LLC
315-824-HOME (4663)