Outstanding Craftsman style property on almost 4 acres!!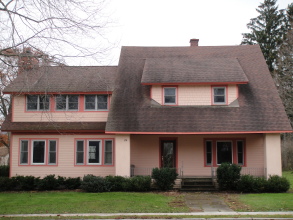 More Photos At:
Listing Number:
949337
 
Essentials
Bedrooms:
4
Bathrooms:
1.5
Type:
Single Family Home
SqFt:
3300
Lot Size:
3.89
Floor(s):
3
Year Built:
1914
Car Spaces:
2
 
Location
24 S. Main St.
Earlville NY 13346
Cross Street(s):
Taylor

 
Financials
Price:
$215,000
Property Taxes:
$7109.00
Susie Gustafson
Susie Gustafson Real Estate, LLC
12 University Ave.
Hamilton, NY 13346
315-824-4663 Office


Description:
Outstanding peroperty featuring former single family home completely renovated for most recent use as an insurance office. Sitting on almost 4 acres in the Village of Earlville, this hearty structure has high end upgrades and infrastructure that will easily compliment home, professional office space or B & B! Extraordinary flex space!!!


Listed By:
Susie Gustafson
Susie Gustafson RE LLC
315 824-4663