Handsome two story formerly known as the "East Hamilton Hotel"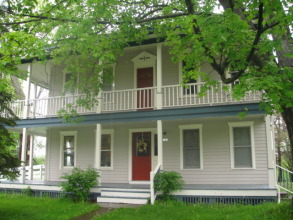 More Photos At:
Listing Number:
953225
MLS Number:
s272377
 
Essentials
Bedrooms:
4
Bathrooms:
2
Type:
Single Family Home
SqFt:
2892
Lot Size:
.87
Floor(s):
2
Year Built:
1800
Car Spaces:
 
Location
1785 Route 12
Hamilton NY 13355

 
Financials
Price:
$175,000
Property Taxes:
$3800
Susie Gustafson
Susie Gustafson Real Estate, LLC
12 University Ave.
Hamilton, NY 13346
315-824-4663 Office


Description:
Formerly known as the old East Hamilton Hotel, this private residence hosts a 1 BR apartment upstairs w/seperate entrance, kitchen & Bath. Ther rest of the house w/downstairs bedroom and bath also has large living room w/fireplace, kitchen & dining room plus upstairs bedroom and three more rooms currently used for storage! Wrap around porches on both upper and lower levels give this old homestead a distinctive look and personality!


Features & Amenities
Fireplace, Hardwood Flooring, High Speed Internet, Porch, Balcony, Basement, Refrigerator, Dishwasher, Washer/Dryer, Landscaping, Garage


Listed By:
Susie Gustafson
Susie Gustafson RE LLC
315 824-4663