Convenient location just a quick (side)walk to Village!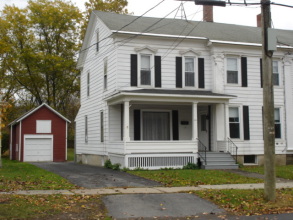 More Photos At:
Listing Number:
735980
MLS Number:
188270
 
Essentials
Bedrooms:
4
Bathrooms:
2
Type:
Single Family Home
SqFt:
1803
Lot Size:
.33 acre
Floor(s):
2
Year Built:
1891
Car Spaces:
 
Location
24 Madison St.
Hamilton NY 13346
Cross Street(s):
Wylie St.

 
Financials
Property Taxes:
$4261
Susie Gustafson
Susie Gustafson Real Estate, LLC
12 University Ave.
Hamilton, NY 13346
315-824-4663 Office


Description:
Convenience and nice space offered in this centrally located property in the Village of Hamilton just a quick walk to Colgate University or shops. Inexpensive Village utilities service this property with a large front porch, rear deck and great carriage barn. Private back yard offers plenty of room for pups or tots!


Features & Amenities
Hardwood Flooring, Cable Ready, Patio/Deck, Porch, Basement, Attic, Refrigerator, Washer/Dryer, Washer/Dryer Hookup, Garage


Listed By:
Susie Gustafson
Susie Gustafson RE
315-824-HOME (4663)