Cool custom designed mid century contemporary (c.1961)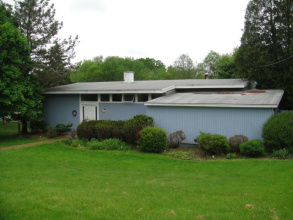 More Photos At:
Listing Number:
952031
MLS Number:
s272824
 
Essentials
Bedrooms:
4
Bathrooms:
2
Type:
Single Family Home
SqFt:
2600
Lot Size:
.36
Floor(s):
2
Year Built:
1961
Car Spaces:
1
 
Location
2057 Spring St.
Hamilton NY 13346
Cross Street(s):
Bonney Hill/Spring St.

 
Financials
Price:
$285,000
Property Taxes:
$11053
Susie Gustafson
Susie Gustafson Real Estate, LLC
12 University Ave.
Hamilton, NY 13346
315-824-4663 Office


Description:
Designed by A. Meggett, this modern house sits on 7 Oaks Golf Course just a quick hop to Colgate University and the Village of Hamilton. Owner has made extensive upgrades and renovations without compromising its original personality. A must see if you're in the Hamilton market!


Features & Amenities
Vaulted Ceilings, Fireplace, Hardwood Flooring, High Speed Internet, Cable Ready, Views, Patio/Deck, Refrigerator, Microwave, Dishwasher, Laundry Room, Washer/Dryer, Golf Course, Landscaping, Fenced Yard, Garage


Listed By:
Susie Gustafson
Susie Gustafson RE LLC
315 824-4663